DJ's California Catering is an exclusive caterer for the following venues . . .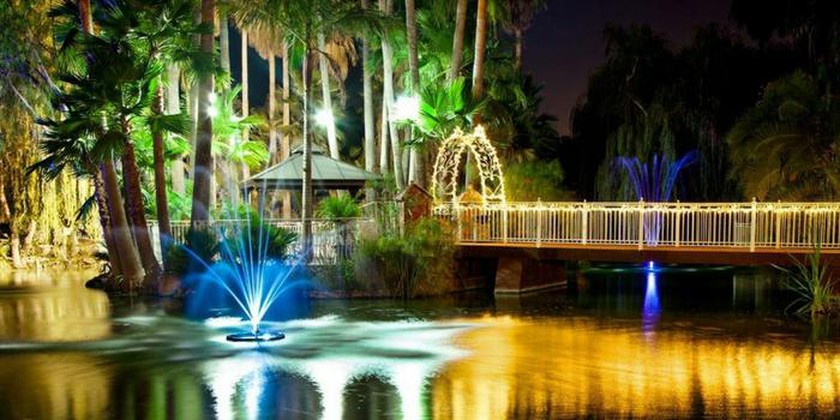 Rancho de las Palmas
Located in Moorpak. In describing an event facility, the term "oasis" gets thrown around pretty loosely, but Rancho de las Palmas, with its spring-fed lagoon and palm trees, comes as close as we've ever seen to fitting the literal definition. DJ's California Catering is the exclusive caterer for Rancho de las Palmas.

805-529-6699 or rdlpweddings@aol.com
3566 Sunset Valley Road, Moorpark, CA 93021
Bella Vista Groves
Bella Vista Grove in Santa Paula is nestled among the lemon, orange, and avocado orchards of the Heritage Valley, the last great citruscape in California. Rising to the north and south of the city, the picturesque San Cayetano and Oakridge mountain ranges are incised by the free-flowing waters of Santa Paula Creek and the Santa Clara River. The beauty of the oak-studded natural landscape is complemented by a wide variety of attractions and activities in the city.
805-377-5499 or events@bellavistagroves.com
3117 W. Telegraph Rd., Fillmore, CA 93015
McGrath Ranch
This early style Craftsman home with its lush and fragant gardens was desigend by Los Angeles architect, A.C. Martin for the McGrath family in 1908. Four generations later, the garden still remains a focal point of the ranches' beauty and serenity.
805-644-1235 or jdmcgrathfarms@gmail.com
5100 Olivas Park Dr., Ventura, CA, 93003
Gerry Ranch
Nestled on 38 acres in the heart of the picturesque Santa Rosa Valley since 1945, Gerry Ranch has retained all of its original charm. Featuring expansive views of the foothills, valley, orchards, and fields, Gerry Ranch will take your breath away with its beauty and elegance. Gerry Ranch is a working farm growing lemons, avocados and blueberries. Peaceful and serene, you will find joy and unsurpassed beauty in the vast landscape. Gerry Ranch is perfect for any event, large or small.
805-377-5568 or info@gerryranch.com
9015 Rosita Road, Camarillo, CA 93012

Bodee's Quail Run Ranch
Family owned and operated avocado ranch with a beautiful Spanish style ranch house. This venue is perfectly picturesque for your special event. The family wishes to share with everyone the symbol of the Quail, which according to the Native Americans is a symbol of love and devotion, loyalty and commitment to family, of peace and staying humble.
805-328-4928 or joanne@quailranchevents.com
3490 Maricopa Highway, Ojai, CA 93023